How to join our club (& visitor information)
So, your interested in becoming a member of Go Bush 4WD club. Firstly, we suggest that you read our "About us" page, to see if our club is going to suit you. Still interested in joining? Then read on…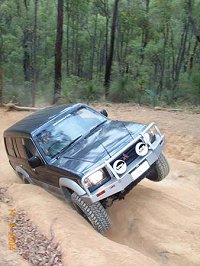 Basically, our club is a small family oriented club, and although we do like a tuff challenge from time to time, we are not a "hard core" bunch of rev-heads. We promote a non-smoking environment via our Smoking Policy, and as we often have kids on our trips, we encourage no swearing also. We adhere to our Code of Ethics to look after the environment and each other. Oh, and if you want to bring your Dog along, you had better read our Dog Policy. We are very safety conscious too, and so you need to read our Safety Page. First of all, you need to come along on 3 of our trips as a visitor. This is so that you can meet all of us, and see what kind of activities we get up to, to ensure that our club is the kind of club you want to belong to. These initial 3 trips also allow us to get to know you, so we can make sure that you will fit into the group. So basically, if after 3 trips everyone is happy, then you can apply for membership. This application is made by just approaching one of our Committee members and asking. Please remember that we want to keep our club fairly small, and so we can not guarantee acceptance of any membership applications. Note also that the maximum number of trips that you can attend as a visitor is also 3, so you need to become a member to continue to attend trips after this. Click on the link below to download the form…
To find out what trips are coming up, just visit our Events page, and if interested in a particular trip, just contact the trip leader and let them know that you would like to attend as a visitor. Alternately, you can contact our trips co-ordinator, or other committee members, from our Contacts page. When attending a club trip as a visitor, you will be required to sign our indemnity form, releasing the club of any liabilities.
When you join our club, the first year's membership fee includes the supply of a GoBush T-Shirt. These fees are collected at the start of each calendar year (Jan & Feb). Click here for our Membership policy, which includes pricing.
Our club is a member of the WA 4WD Association (Inc), which offers our members several advantages. We never want our club to grow to an unmanageable size, and so we have set a limit of 50 members. Even if we have our quota of members, we still welcome your enquiry as members sometimes come and go.
When attending our trips as a visitor, the trip leader will ask you to fill in and sign our Indemnity Form (as only our Members are covered under our insurance)
Do you have any more questions? Then please email us.