Guidelines for use of the club's group email facility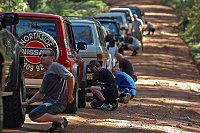 Members of GoBush 4WD club, are given the facility to be able to email all members at once, by sending an email to our group email address of:

As our club includes Ladies and Children, who may also read the club's emails, we need to monitor the usage of this facility. So, to ensure that the use of this email address does not get out of hand, we have set some basic guidelines for it's use as follows:
GoBush Group Email policy:
Try to keep the content of emails to be related to 4WDing, camping, or general club interest.
Do not use swear words, profanities, abusive or crude words in the emails
Do not send pornographic or other material containing "Adult" content.
Try to keep the size of the emails down, as some members have slower internet connections. For example, try to send the link to photos or video clips, rather than attaching the video clip itself (or a bunch of photos).
When replying to group emails, by default the reply goes just to the original sender, rather than the whole group. Do not CC the whole group on replies unless absolutely necessary, as this can result in everyone getting a lot of unnecessary emails. For example, when someone emails the group for an opinion on a topic, let that sender compile all the individual replies to make a decision, rather than everyone getting all the opinions.
The committee of GoBush 4WD club may remove a member from the group email facility, if it is used inappropriately, for any reason including the reasons mentioned in this policy.
Do you have any questions, or difficulty using the group email, then please email the webmaster… see email address on the Contact Us page.