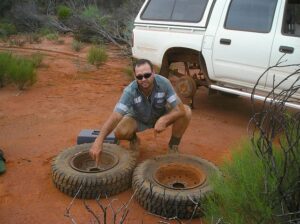 Go Bush 4WD club (inc) was formed in October 2004, by a group of 6 four-wheel-driving enthusiasts. The club was incorporated on 4th Feb 2005 (registration number A1012031K). All but 2 of these founding members are still in the club, and 2 are still on the committee, as detailed on our Honour Board. The aim of this club is to create a small club of family oriented people, who enjoy going recreational 4WDing and camping, as a means of an escape from today's busy lifestyles. Our key goals in the club are to make it as casual as possible, meaning very few meetings, and the meetings themselves should be primarily a social function, with the official business taking up only a small portion of the time. To go 4WDing and camping with a minimum of political fuss, making it really just a way of formalising a group of friends going out on a social camping trip. A means of us all sharing ideas / parts / tips etc with a bunch of like minded individuals.
As we are a family based club, we want to encourage a non-smoking environment, and so we have written our Smoking Policy. Yes, you can still join the club if you are a smoker, but if you want to smoke whilst you socialise, then our club may not be the best for you. We also have a Dog Policy to set guidelines for bringing your Dog on club events. As we usually have kids present on our club functions & trips, we also try to keep swearing to a minimum. We adhere to our Code of Ethics and Safety standards too.
We follow the Tread Lightly philosophy. That is, that we stick to defined tracks, engage 4WD as soon as we leave the bitumen and let our tyres down when on soft surfaces to minimise wheelspin, protect the vegetation and wildlife etc. Although many of our member's 4WD's are modified for better off road performance (big tyres, lifted suspension, dif-locks etc), we are definitely not a bunch of rev-heads. I would suggest that if you have a 4WD that resembles a monster truck, or has a big noisy high performance V8 in it, then perhaps our club is not suitable for you.
Our club makes extensive use of the internet. The club's primary means of communications is via this web site, with all relevant items, including upcoming trips etc, being posted on the various web pages. All financial members of our club will also have access to our Group email facility, which means that you can send a single email which will be distributed to all financial members. Any such email must be 4WD / club / camping related, as we do not want to be swamped with junk emails, and anyone who sends such emails will be removed from the group pronto!
Interested in Joining the club? Proceed to the How To Join page