To send us an email, you can use the Contact Form, or manually email us from the list below:
BANK DETAILS: Account name: Go Bush 4WD Club Inc, BSB: 325-185, Account#: 04013289 – (these are the new Beyond bank details)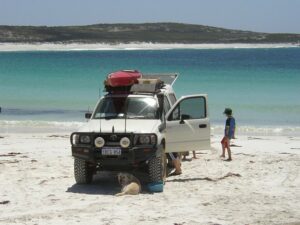 Who is eligible for the committee? Read about the requirements on our Membership Policy, in the last paragraph. How do I get on the Committee? The committee is voted in at the AGM (Annually General Meeting), held in February each year. A week or 2 prior to this meeting, members are invited to submit nominations for the committee, which is used to prepare the voting slips.
Check out our Honour Board for long serving committee members, and our Awards Page too. Here is a list of previous committees:
| | | |
| --- | --- | --- |
| 2022 Committee: | | |
| Position | Person | |
| Chairman | Dino (Deane) | |
| Secretary | Mudslide (Dwayne) | |
| Treasurer | Pebbles (Trish) | |
| Webmaster / Equipment officer | Skip (Alan) | |
| Senior Track Marshall | Roo (Andrew) | |
| Trips Co-ordinator | Tony (TC) | |
| | | |
| 2021 Committee: | | |
| Position | Person | |
| Chairman | Dino | |
| Secretary | Mudslide | |
| Treasurer | Pebbles | |
| Webmaster / Equipment officer | Skip | |
| Senior Track Marshal | Roo | |
| Trips Co-ordinator | Pommy | |
| | | |
| 2020 Committee: | | |
| Chairman | Dino | |
| Secretary | Mudslide | |
| Treasurer | Pebbles | |
| Webmaster / Equipment officer | Skip | |
| Senior Track Marshal | Roo | |
| Trips Co-ordinator | Pommy | |
| | | |
| 2019 Committee: | | |
| Chairman | Dino | |
| Secretary | Stampy | |
| Treasurer | Pebbles | |
| Webmaster / Equipment officer | Skip | |
| Senior Track marshal | TC | |
| Trpis Co-ordinator | Pommy | |
| | | |
| 2018 Committee: | | |
| Chairman | Dino | |
| Secretary | Stampy | |
| Treasurer | Pebbles | |
| Webmaster / Equipment officer | Skip | |
| Senior Track Marshal | Muzza | |
| Trips Co-ordinator | Jimbo | |
| | | |
| 2017 Committee: | | |
| Chairman | Dino | |
| Secretary | Stampy | |
| Treasurer | Pebbles | |
| Webmaster / Equipment officer | Skip | |
| Senior Track marshal | Muzza | |
| Trips Co-ordinator | Roo | |
| | | |
| 2016 Committee: | | |
| Chairman | Dino | |
| Secretary | Stampy | |
| Treasurer | Pebbles | |
| Webmaster / Equipment officer | Skip | |
| Senior Track Marshal | Muzza | |
| Trips Co-ordinator | Roo | |
| | | |
| 2015 Committee: | | |
| Chairman | TC | |
| Secretary | Stampy | |
| Treasurer | Pebbles | |
| Webmaster / Equipment officer | Skip | |
| Senior Track Marshal | Muzza | |
| Trip Co-ordinator | Roo | |
| | | |
| 2014 Committee: | | |
| Chairman | TC | |
| Secretary | Dirt | |
| Treasurer | Dino | |
| Webmaster / Equipment officer | Skip | |
| Senior Track Marshal | Pommy | |
| Trips Co-ordinator | Muzza | |
| | | |
| 2013 Committee: | | |
| Chairman | TC | |
| Secretary | Dirt | |
| Treasurer | Dino | |
| Webmaster / Equipment officer | Skip | |
| Senior Track Marshal | Pommy | |
| Trips Co-ordinator | Roo | |
| | | |
| 2012 Committee: | | |
| Chairman | TC | |
| Secretary | Dirt | |
| Treasurer | Dino | |
| Webmaster | Skip | |
| Equipment officer | Pommy | |
| Trips Co-ordinator | Roo | |
| | | |
| 2011 Committee: | | |
| Chairman | Dino | |
| Secretary | Dirt | |
| Treasurer | Mudslide | |
| Webmaster | Skip | |
| Equipment officer | Pommy | |
| Trips Co-ordinator | TC | |
| | | |
| 2010 Committee: | | |
| Chairman | TC | |
| Secretary | Dirt | |
| Treasurer | Mudslide | |
| Webmaster | Skip | |
| Equipment officer | Robbo | |
| Trips Co-ordinator | Pommy | |
| | | |
| 2009 Committee: | | |
| Chairman | Dino | |
| Secretary | Rainman | |
| Treasurer | Mudslide | |
| Webmaster / Trips Co-ordinator | Skip | |
| Equipment officer | Robbo | |
| | | |
| 2008 Committee: | | |
| Chairman | Dino | |
| Secretary | Rainman | |
| Treasurer | Shiva | |
| Webmaster / Trips Co-ordinator | Skip | |
| Equipment officer | Robbo | |
| | | |
| 2007 Committee: | | |
| Chairman | Skip | |
| Secretary | Rainman | |
| Treasurer | Chups | |
| Webmaster | Dino | |
| Trips Co-ordinator / Environment officer | Coighty | |
| Equipment officer | Rooster | |
| | | |
| 2006 Committee: | | |
| Chairman | Big Pete (part year), Styx (part year) | |
| Secretary | Micki (part year), Styx (Acting, part year) | |
| Treasurer | Dino | |
| Webmaster | Skip (part year), Dino (Acting, part year) | |
| Trips Co-ordinator | Ozzie (part year), Big Pete (part year) | |
| Equipment officer | TC | |
| Environment officer | Coighty | |
| | | |
| 2005 Committee: | | |
| Chairman | Big Pete | |
| Secretary | Styx | |
| Treasurer | Dino | |
| Webmaster | Skip | |
| Environment & Equipment officer | TC | |
| Trips Co-ordinator | Ozzie | |
| | | |
| 2004 Committee: | | |
| Chairman | Big Pete | |
| Secretary | Styx | |
| Treasurer | Dino | |
| Webmaster | Skip | |
| Environment & Equipment officer | TC | |
| Trips Co-ordinator | Rushie | |
| | | |